Guru Ammannur Madhava Chakyar
May 13, 1917 – July 1, 2008
"One never stops learning and one practises all one's life." – Guru Ammannur Madhava Chakyar
Guru Ammannur Madhava Chakyar can easily be described as one of the greatest Kutiyattam performers of the last century. Kutiyattam used to be earlier confined to the precincts of temples, but sustained efforts by the all time greats considered as the trinity of Kutiyattam of this century – Painkulam Damodara Chakyar, Mani Madhava Chakyar and Ammannur Madhava Chakyar – were instrumental in popularizing this centuries old Sanskrit theatre and getting it recognized by UNESCO. In 2001, it was Guru Ammannur Madhava Chakyar who was selected to receive the UNESCO citation proclaiming Kutiya
ttam as a "Masterpiece of the Oral and Intangible Heritage of Humanity."
Ammannur Madhava Chakyar was born into the Ammannnur Chakyar family to Sreedevi Illodamma and Vellarapilli Madassi Manakkal Parameswaran Nambutiri on May 13, 1917. He passed away on July 1, 2008 around 9.15pm at his residence, aged 92. His wife Parukkutty Illodamma survives him.
His funeral was attended by art-lovers, fans, friends, family and several eminent personalities from various fields. Although we all who were close to him feel a great sense of loss and abandonment, it is also a time to celebrate the fullness of his life spiritually and on every level from beginning to end.
Training, Gurus and first performances Ammannur Madhava Chakyar was initiated into Kutiyattam at the age of 7 and trained rigorously under his two uncles Ammannur Chachu Chakyar and Ammannur Valiya Madhava Chakyar.
His arangettam (debut performance) was at the age of 11 at the Bhagavathi temple at Thirumandham Kunnu performing the role of Sutradhara in 'Balacharitam.'
At the age of 14, he gave his first performance at the Vadakkumnathan Temple in Trichur performing as Sree Rama in 'Balivadham.'
At the age of 16, He had his debut in Prabandha Koothu with the ritual Kuduma vakkal at the Putiya Trikkovil, Chendamangalam.
After completing his basic training in the traditional style under his masters, Ammannur Madhava Chakyar went for higher training in Abhinaya and Natya Shastra under Bhagavathar Kunjunni Thampuran at the acting laboratory at the Kodungallor Royal family.
He also studied Sanskrit language under Kochikavu Tampuratty and Manthitta Nambuthiri.
Repertoire highlights (character role and plays) Bali – Balivadham Ravana – Thoranayudham, Asokavanikankam, Hanumaddutam, Jatayuvadham Suta, Jatayu – Jatayuvadham Surpanakha – Surpanakhangam Hanuman – Thoranayudham, Ankuliyankam Dhananjayan – Subhadra Dhananjayam Bhima, Vidyadhara – Kalyanasaugandhikam Kapali – Mattavilasam Vidushaka – Subhadra Dhananjayam, Tapatisamvaranam Naganandam and all important Prabandha-s in Koothu
The complete text of 'Asokavanikankam,' performed at Irinjalakuda 25 years ago, was fully documented and is now a prized treasure in the archives of Sangeet Natak Akademi, New Delhi.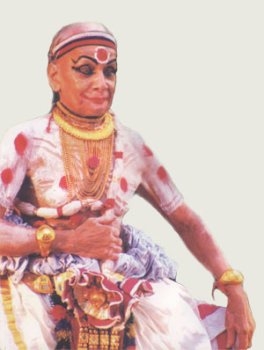 Attaprakaram-s – acting manuals written for performance (unpublished) – It is his signal contribution that he made available the 'Attaprakaram – Kramadeepika' for three important acts of 'Acharyachoodamani,' namely Parnshalankam, Mayasitankam, Ezhamankam – Abhisheka Natakam – Hanumaddutam, Samudrataranam – Kalyanasaugandhikam – Subhadra Dhananjayam – Act 2 – Nangiar Koothu – Sree Krishna Charitam (revised version)
Positions held Ammannur Chachu Chakyar Smaraka Gurukulam is the training and performing centre for Kutiyattam. It is attached to Ammannur Chakyar family whose members have been the hereditary practitioners and custodians of the art of Kutiyattam. He was the lifelong Kulapati at the Gurukulam which he co-founded with G Venu.
Chief Resource person – life long at Natanakairali – Research and Performing Centre for Traditional Arts, Irinjalakuda
Visiting Guru at Margi Kutiyattam Vidyalayam, Tiruvananthapuram (1981-88). He was the first Guru at Margi Kutiyattam centre.
Visiting Professor, Kerala Kalamandalam, Cheruthuruthy (1981-82)
Performance tours abroad France (1982, 86, 2001) England (1982, 87) The Netherlands (1987) Switzerland (1987) Japan (1988)
Disciples A dedicated performer and a perfectionist teacher, Ammannur Madhava Chakyar was instrumental in rearing a new generation of Kutiyattam artists and honing the skills of some of the best talents in the art today. Some of his disciples who are now well-established performing artists are: Moozhikulam Kochukuttan Chakyar, Ammannur Kuttam Chakyar, G Venu, Usha Nangiar, Margi Madhu, Ammannur Rajaneesh Chakyar, Sooraj Nambiar, Pothiyil Renjith Chakyar, Kapila Nagavallikkunnel, Aparna Nangiar, Saritha T R, Margi Raman, Margi Sajeev Narayanan, Potiyil Narayanan, Nirmala Paniker, Tomoe Tara Irino, Rathy Nangiar
Honours / Awards 'Nrutha Natya Puraskaram' from Kerala State – 2007 'Padma Bhushan' from Government of India – 2002 P S John Endowment Award from Ernakulam Press Club – 2002 Degree of Doctor of Letters from Kannur University – 2002 Citation of UNESCO recognising Kutiyattam – 2001 'Pattum Valayum' from Keli and Prithvi Theatre, Mumbai – 1998 'Peelithirumudi Award' from Guruvayur temple – 1997 Fellowship from Sangeet Natak Akademi – 1996 'Veera Sringhala' from The International Centre for Kutiyattam, Thripunithura – 1994 'Sree Guruvayoorappan Samman' from Guruvayur Temple – 1992 'Kalidas Samman' from Govt. of Madhya Pradesh – 1992 Fellowship from Kerala Kalamandalam – 1988 'Natya Kala Nidhi' title from Cochin Devaswam Board – 1987 'Padma Shri' from Govt. of India – 1982 Sangeet Natak Akademi Award – 1979
'Into The World of Kutiyattam with the Legendary Ammannur Madhava Chakyar – Memoirs' by G Venu, has been published by Natanakairali – Research and Performing Centre for Traditional Arts.
M R Rajan's documentary film 'Pakarnnatam' on guru Ammannur Madhava Chakyar won the Best Documentary Award from Kerala State and National Film Awards for 1996.