Pandit Birju Maharaj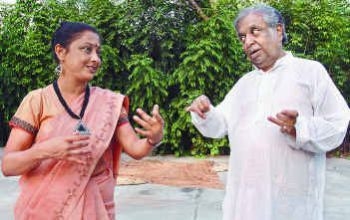 The most eminent Kathak dancer of recent times is Pandit Birju Maharaj. His full name is Brij Mohan Nath Mishra. He is the only son and disciple of Shri Achyan Maharaj and is a competent inheritor of the Lucknow Gharana. Birju Maharaj is a very talented and dignified personality. He is a born artist. During his childhood, he used to keenly watch and imitate various modes and ways of Kathak while his father used to give dance lessons to his students. In this way, rather playfully child Birju learned lots of things. Pleased by his son's achievements, Acchan Maharaj started to teach his son whole-heartedly. By the age of seven, Birju performed Kathak in home town Lucknow. It was the first recital in his life. The audience was spellbound at his wonderful presentation. At the age of ten, poor Birju lost his father. That was a tremenduous blow in child Birju's delicate mind. However, he tolerated that tragidy. Then he started taking dance lessons from his uncle Shri Lacchu Maharaj and Shri Shambhu Maharaj Later on, he became the teacher of Sangeet Bharati of Delhi. He teaches at the Bharatiya Kala Kendra in Delhi. He composed many dance dramas like 'Gobardhan Leela', 'Makhan Chori', 'Malti-Madhav', 'Kumar Samvav', 'Phag Bahar' etc. and gained extensive fame all over the country. His talent, dedication, vivacity, innovation enabled him to get involved in thousands of concerts not only in India but also in different places abroad. Today, whenever Kathak is discussed, Birju Maharaj's name is always raised.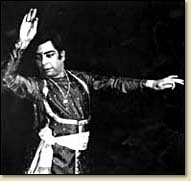 Birju Maharaj has an enormous knowledge in Bol (musical phrases interlinked with drum strokes)-Laya (speed)-Taal (beats). Apart from being a Kathak dancer, he is also introduced as a singer of Bhajan, Thumri, Dadra, Hori etc. and also as a Tabla, Pakhawaj, Dholak, Naal (percussion instruments) player. He fluently plays various string instruments like Israj, Violin, Swar-Mandal, Sitar etc. To be respectful, Birju Maharaj can be introduced as a dancer, musician, composer, teacher, director, choreographer and a poet. He is an all-rounder. In 1986, he received the prestigious 'Padma Bibhushan' tittle from the goverment of India. He also received the 'Kalidas' award. He is also a recipient of 'Nehru Fellowship' in the name of India's first Prime Minister Pandit Jawaharlal Nehru. He is an instituition in himself. Currently, he is the chief faculty at Delhi's Kathak Kendra.
He is the father of two very well-known God-gifted talents – Shri Jai Kishan and Deepak Maharaj. He has many able desciples in India and abroad. Saswati Sen is one of the most versatile ones.
Born in the family of hereditary dancers, Birju Maharaj is the torch bearer of the famous family , Kalka-Bindadin Gharana of Lucknow, which has been serving the art of Kathak dance through centuries togather. Not only on India, he is familiarly known abroad, nearly all over the world. He has extensively toured all over the world, i.e. USSR, USA, Japan, UAE, UK, France, Germany, Italy, Aaustria, Czechoslovakia, Burma, Ceylon etc. for performances as well as lecture-demonstrations. Besides deing a superb dancer, he is also gifted with a number of other qualities which add to his artistic career.
He is a wonderful singer having command over, Thumri, Dadra, Bhajan and Ghazals and is also superb drummer, playing nearly all drums with ease and precision. He has given a new dimension to Kathak, by experimenting this technique in the application of dance-dramas, which has become very successful medium for mass propagation. As a choreographer he is the finest in the country today. His bold and intellectual compositions in traditional themes are brilliant, whereas his contemporary works are also refreshing in concept, crisp and entertaining.
He directed and composed music and sung playback for two classical dance sequences in the film, 'The Chess Players' directed by Satyajit Ray. A measure of his genius is the fact that at the age of 28 years, he received the Sangeet Natak Akademy Award. He is also a recipient of the country's second highest civilian award-Padma Vibhushan, besides several other pestigeous awards like- Kalidas Samman, Nritya Choodamani, Andhra Ratna, Nritya Vilas, Adharshila Shikhar Samman, Soviet Land Nehru Award, Shiromani Samman, Rajiv Ghandhi Peace Award.
He has been conferred with the Honorary Doctorate degrees from Banaras Hindu University, as well as Khairagarh University. He is widely acclaimed not only as a performer but also as an inspiring 'Guru' – teacher, having successfully trained numerous students in India and Abroad.