Sahastrasar Chakra – Crown Chakra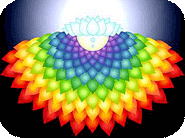 The crown chakra is, as its name says, located on the top of the head. It is represented by a lotus with 1000 petals, which is a symbol for eternity. When Kundalini rises until the seventh chakra, the person is said to have reached enlightenment. Enlightenment in this sense means being one with God, in a total union and in full awareness. You are conscious of the truth and are detached from the illusion of the material world.
Names: Sahastrasar, Crown, Seventh Chakra
Location: On the top of the head
Element: Light
Colour: Violet
Stimulating fragrances: Lotus
Gemstones and Crystals: White tourmaline, White jade, Snowy quartz, Rock cristal, diamond
Physical problems: Accidents, brain difficulties, cancer of the brain, concentration problems,chronic disease, low energy, Parkinson's disease and endocrine system difficulties.
Emotional problems: Manic-depression, difficulties in making choices, fear of death, feeling lost, frustration, ignorance, insanity, lack of inspiration, loss of bliss, loss of joy, loss of happiness, no enthusiasm, seeking acceptance, spaced out.